What is Fascia?

Fascia is a simply a synonym for connective tissue. Every cell in our bodies is housed in, and separated from all other cells by connective tissue, or fascia - it is the fabric of the body, the web that literally holds us together. No matter whether you are dealing with muscles, organs, or nerves, all of these structures are housed in and separated by fascia. What relevance does this have for you? Essentially, when fascia becomes shortened and/or damaged, collagen fibres become excessively adhered together, limiting elasticity and exerting a pull on the rest of the body's fabric. This is what causes compensatory problems and pain, and it is probably the reason you are looking at this website...
Muscle vs Fascia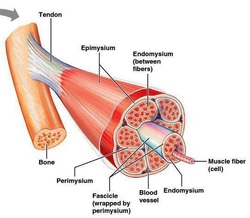 As can be seen in the cross-section to the left, the structure of a muscle is relatively complex. The white/pink tissue that surrounds the red (muscle cells) is, in fact, increasingly deeper layers of connective tissue or "fascia". Every cell in the body is suspended within and separated from all other cells by different types of fascia, it is not merely limited to muscles. Along with the bones (which are actually mineralized connective tissue), it is the framework that provides the body with its tensile integrity and strength. Collagen fibres are the main structural component of this fascia (or connective tissue), which can be imagined as being microscopic cables that are bound together in a mesh to provide the body with its great strength and resilience. When we become injured, this delicate framework may become ruptured, triggering the inflammatory response in order to repair the damage. The laying down of new collagen is what provides the area with strength, but it also creates a condition of inelasticity. These areas are commonly referred to as "scar tissue" or "adhesion", and they are the source of great problems in the body, most often nowhere near the actual damaged area. When we have areas that have become "knotted up", they tend to pull the body out of its natural state of alignment and balance, creating a compensation pattern. The areas that are short and restricted by excessive adhesion are called "contractures", while the antagonistic muscle groups that attempt to right this wrong go into a state of spasm. It is these areas that are in chronic spasm that become fatigued and painful as they are overworked, tired, stretched out and weak. Unfortunately, they are not capable of restoring the imbalances without assistance in first releasing the contractured areas - releasing these is the first step toward restoring balance.

---
Contracture vs Spasm
"Tug of War"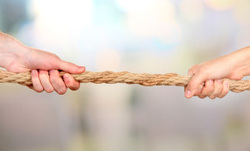 Contractures can develop as a result of injury, either major trauma or repetitive strain, but they can also occur from overuse (seen in athletes who do not stretch properly) as well as those with chronically poor posture. The fascia that surrounds muscle tissue with a shortened resting length will necessarily adapt to this new shortened position in order to continue providing structural integrity. Compensation patterns are a series of muscle spasms attempting to balance out adhesions and/or contractures - this phenomenon presents itself as misalignment, poor joint functioning, muscular imbalances, pain and loss of range of motion (ROM). Having a lack of available ROM will also lead to premature wear on joint surfaces and the pain that goes along with it. Clearly, inflammation is something we wish to avoid, but if it has already run its course, then its imprint, "adhesion" is what remains. I can't count the number of times I have witnessed how past ankle sprains have altered biomechanics significantly enough to cause pelvic imbalance, lower back and even neck problems.
---
Who Can Benefit?

Anyone experiencing some type of musculoskeletal pain will benefit. To name a few:
Recent or old whiplash injuries
Lower back stiffness/pain
Rotator cuff problems or adhesive capsulitis (frozen shoulder)
IT Band syndrome/patellar tracking dysfunction
Medial or lateral epicondylitis (golfer's or tennis elbow)
Shin splints
Torticollis (wry-neck)
Plantar fasciitis
Scoliosis (functional)
Anyone familiar with these conditions should be aware that they are all connective tissue/fascia disorders. Those suffering from pain and/or limitation will almost certainly benefit from treatment, provided structural damage is not too severe. Occasionally, when ligaments have become fully ruptured, the body will "splint" by tightening up muscles in order to provide the stability that the ruptured ligaments are unable to. In these cases, a balance between mobility and stability must be created. Fascial contracture is normal in these cases, provided it is not excessive, and the amount of benefit that can be gained is limited. However, the vast majority of contractures are the after-effect of previous injury, are unhealthy and lead to problems with compensation, pain and loss of range of motion. If you suffer from a chronically tight neck or lower back, or are even prone to "putting out" your neck or back, have shoulder problems (especially with throwing), IT band issues affecting the knee or hip, ankle or wrist problems (often felt during exercise), or any number of other tendinitis issues, then
Fascial Restructuring(TM)
will almost certainly be able to help. If you are unlucky enough to have suffered severe traumas from falls or other accidents, the amount you stand to gain is even greater.
The Bottom Line

The goal of Fascial Restructuring(TM) is to release adhesions, as well as the muscular spasms of compensation, and to return the body to its natural, pain-free aligned state. The end result is a freedom of movement and absence of pain that we most often associate with youth. By creating a less adhered, more balanced body, we are in essence, creating a body that feels more youthful. Other benefits from releasing fascial adhesions include better circulation of blood and lymph, and the improved cellular functioning that goes along with it. In essence, unless you have led a charmed life free of any and all injuries, Fascial Restructuring(TM) will be able to help you. Although its range of application is limitless, I developed Fascial Restructuring therapy to help those who are suffering - I have been there and know that it is no way to live, constantly in pain. If you have found this website, and you are suffering, please contact me for more information..