Chronic/Recurring Pain

The first and foremost goal of FR(TM) is to address the debilitating effects of chronic/recurring pain. Current estimates are that nearly 20% of Canadians live with some form of chronic musculoskeletal pain. Although this type of pain is not always debilitating, it is progressive and usually has a way of affecting quality of life - limiting activities, affecting mood and leading to early degeneration of cartilage, joints and intervertebral discs and compromising normal range of motion. If you wake up every day with a stiff/sore lower back, find that your neck will "lock" occasionally, experience knee or hip pain (especially with exercise), or are even unable to exercise, then there is hope for you. Many people call this "getting old" - but it is truly an inaccurate assumption. Although inactivity and loss of mobility are associated with aging, they are not causally related to it; in fact, the natural process of aging works in the opposite direction, leading to gradual loss of collagen as the years go by. Ongoing deposition of collagen (scar tissue) that results from the continuous reinjury of any number of traumas, repetitive strains, infections or excessively intense exercise will serve to worsen your condition, leading to increasing pain and loss of range of motion (ROM) as time progresses. The goal of FR(TM) is to restore the body to a more flexible, resilient state that will actually feel more youthful, diminishing the "pain of aging", and giving life back to your years, especially for those seeking to pursue and/or continue an active lifestyle.

Neurological Pain

If you are suffering from more serious, chronic, debilitating pain that is strongly affecting your quality of life, then there is help. A very common set of symptoms that clients will present with is pain down a limb, often accompanied by tingling or numbness. This type of pain which is typically described as "constant and achy" is known as "radicular" pain as it radiates from the spine - more specifically an impingement of the nervous system. Regardless of whether or not there is arthritis, osteophytes or disc degeneration/herniation present, this type of pain can often be helped with a series of FR(TM) treatments. The idea is always the same - treat the cause, which in this case is likely a continous compression of the spine leading to degeneration and neurological symptoms. By relieving this compression through a variety of techniques, symptoms can often by alleviated, and in cases where the degeneration is not too advanced, even disappear. Very often in these cases, a pattern of chronic inflammation leads to adhesion between the fasciae of the nervous system (neurium) and the fasciae of the muscular system (myofascia). The result is constant compression of the the intervertebral discs, erosion of the facet joints and compression of nerve roots where the nervous system exits from the spinal column. By decompressing the spine and releasing these adhesions at the dural (nerve root)l level, the pressure and/or tension is alleviated. This is a simple science, not some unfounded claim, and it relies on the principles of physics and molecular chemistry; however, it requires a skilled, experienced set of hands to accomplish.
Obviously, when dealing with chronic pain, other factors may be present that contribute to symptoms. These factors will be uncovered during a detailed case history and assessment of the client in order to determine whether physical adhesion is the root cause of the client's pain. FR(TM) is not magic; its goal is simply to release adhesions from physical traumas/injuries and their constant and chronic reinjury. A multifaceted approach to chronic pain often works best, and it is best to tackle a problem from as many angles as possible. Recommendations can be made if the therapist suspects other factors are at work in the chronic pain equation.
Somato-emotional Release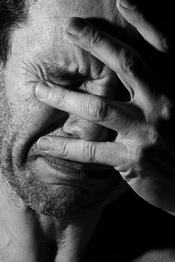 Although the goal of FR(TM) is to release adhesions from physical traumas, the accompanying emotional release that occurs during treatments can be profound. As emotions are manifested and stored physically within our bodies (especially in our diaphragm/core), the release of these physical restrictions often has profoundly liberating effects, both on physical and emotional well-being. Those clients who are deliberately seeking help with "liberating" stored emotional traumas can certainly benefit, but, in many cases clients are simply unaware of this connection, and are surprised by the emotional release that accompanies the physical. For those clients who have sustained severe emotional traumas, or have been living in a state of prolonged anxiety/stress, the emotional release that accompanies the physical release of FR(TM) can provide welcome relief from emotional and physical pain. The connection between the body and the limbic system is restored, and healing at that level can begin, provided the client is ready.


---